Wemyss Castle Pages
A Potted History of the Wemyss Private Railway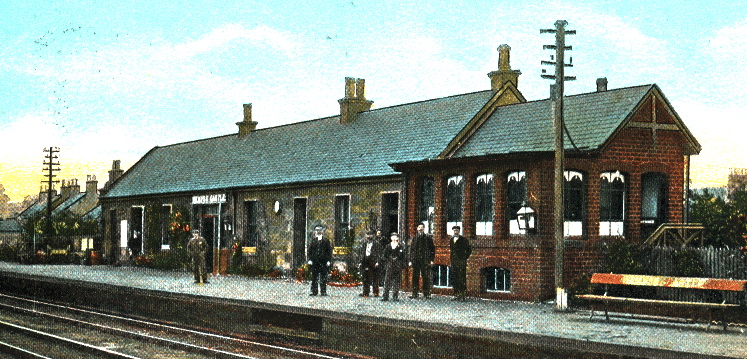 The Wemyss family estates are to be found in the Kingdom of Fife, on the east coast of Scotland.
The earliest records show coal being used on the shore of the Firth of Forth to help in the panning of salt from sea water. The Second Earl of Wemyss was granted permission to construct a harbour at Methil where coal could be transported by sea. In the 1800's there was a horse drawn wagon-way between Wemyss and Methil. With the sinking of new mines in the 1860's coal mining became a large scale industry.

The family continued to exploit the coal deposits under their properties and several collieries, Randolph, Frances and Michael, were named after members of the family.

In the 1890s Randolph Erskine Wemyss started to build a private railway, mainly single track, to carry coal to export around the world from Methil Docks, without having to use the tracks of the North British Railway.

After Nationalisation in 1947, the Wemyss Private Railway (WPR) was one of the few Private Owner railways that continued to operate. The WPR's continuing independence being principally because it also handled non-colliery traffic, and after nationalisation six of the WPR's twenty locomotives remained on the railway. The other fourteen passed to the NCB, as did three locos previously owned by the Fife Coal Company. After 1947 it was not unusual to find WPR and NCB locos working side by side at Methil docks.

The Wemyss Private Railway remained in private hands and continued to serve the collieries until its closure on 26 June, 1970. The single line passed through farm land and woodland and after closure most of the railway and its branches have been reclaimed by agriculture.

It is interesting to note that the Wemyss Private Railway continued to solely use steam engines until closure. Four of these steam engines two Barclay Tanks and two Austerities J94's have survived into preservation.
Background:

The Wemyss Private Railway was ever present, on a daily basis, when I was a youngster growing up in Buckhaven, Fife.

Like most people, I accepted the steam engines and coal wagon movements each day. At times this meant being held up at Starkeys Wood Level Crossing or seeing the many train movements at Wellesley Pit or Methil Docks. These were all part of every day life. Something that I thought and I am sure others thought would be with us forever.

It was only in later life, that I found an interest in the Wemyss Private Railway (WPR).

On searching Google I found a number of articles and images. Also discovered the book,'The Wemyss Private Railway' by A. W. Brotchie. I bought my copy and it has now become a kind of bible of all that is WPR. (a must buy for anyone researching the WPR).

I felt that I had missed something special in my younger years. I had taken for granted what was around me, without really appreciating it. Slowly the idea dawned that as the WPR had gone, maybe, just maybe I could build a model rail layout, based on this unique railway.

A few engines and wagons were bought and at first I was very pleased. But on comparing them with images of the WPR, something was not quite right. Wagons and engines were the wrong colour and the detailing was not quite right.

To my surprise I discovered WPR No. 15 had been preserved and was in working order. It had lain in T Muir's Scrap Yard, Kirkcaldy for a number of years, bought by Andrew Goodman and restored. It took a little time to track No. 15 down but eventually discovered that she was on loan to the East Lancashire Railway. So off I rushed with video camera in hand to view this preserved engine.

A collection of books, magazines, dvd's and some pre-build wagons and engines were bought.

I thought it would be a good idea to document my journey. I set to work building a website that would show my journey but also become a resource for other people interested in the Wemyss Private Railway.