Dolgellau Pages
Dolgellau History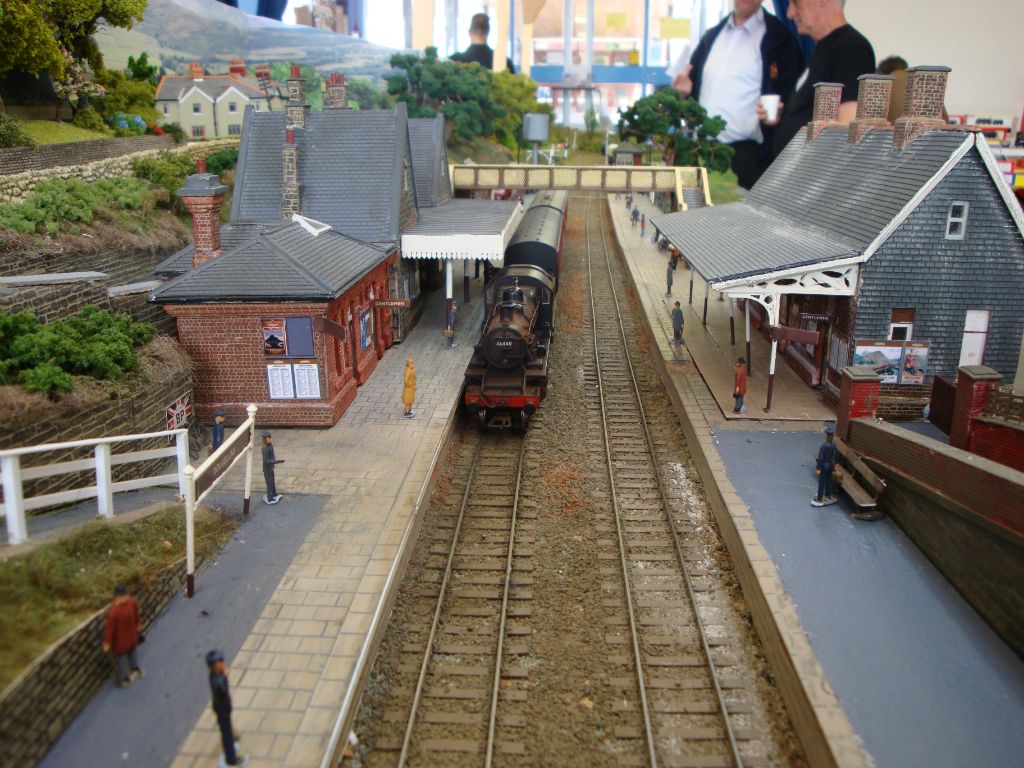 Brief History of the line
Dolgellau (pronounced Dol-geth-li) was a station on the former Llangollen line running from Ruabon through to Barmouth. It first opened to passengers on the 4th August 1868 and to goods in October of the same year.
At one time it formed an end on junction with the Cambrian Railway and the Great Western Railway. This explains the two differing types of station architecture – Great Western style on the up side and Cambrian style, with its distinctive "fish" design, on the down side.

The GWR buildings, located on the "up" side comprised of a combined Booking and Parcels Office, Station Masters Office, General Waiting Room, Ladies Waiting Room, Refreshment Room, two lavatories and a Guards Room.
The Cambrian buildings, on the "down" platform consisted of the Cambrian Station Masters Office, Booking Office (both of these were discontinued in use after amalgamation), General Waiting Room, Ladies Waiting Room and two lavatories. Behind this building flowed the Afon Wnion, this eventually flowed into the Afon Mawddach and out to Barmouth and the sea.

During rebuilding of the station in 1925, a footbridge was installed at the Ruabon end of the platforms. Prior to this passengers crossed the line by walking up steps to the road, then down a ramp.

Prior to grouping there were two signal boxes, one on the "down" side of the line, just before the platform, and the second was on the "up" platform. This box however, was taken out of use in 1925 and all points and signals worked from the other box which had a 35 lever frame. Although the box was out of use it remained in tact until closure of the station.

The turntable, on the "down" side just behind the signal box, was used to turn the small Cambrian locomotives. It was rarely used after grouping and was taken out of commission before the line closed in 1965. Two water columns were provided, one at the Ruabon end of the "up" platform and the other on the "down" side at the end of the platform just beyond the bridge.

There was an Oil Depot at Dolgellau complete with storage tanks. The goods yard had four sidings, including the one that gave access to the Oil Depot, a fairly large goods shed, a coal handling facility and a cattle dock. Also, the local Farmers Co-operative had a corrugated iron shed where goods were stored and distributed.
On the "up" side (towards Ruabon), there was a loading bay and on the opposite side a siding which was very often used to stable the "shuttle" stock over night.

The line closed to goods on the 4th May 1964 and to passenger and mail from Ruabon on12th December 1964. The line finally closed to passenger from Barmouth Junction on18th January 1965. Nothing, except the preserved section of the Llangollen Railway line, remains. The track bed at Dolgellau is now a busy by-pass running towards Barmouth.

The station at Morfa Mawddach (formerly Barmouth Junction) is still open, though nothing like the triangular junction it once was. Barmouth itself is still open.

Baseboards, Track & Electrics

The baseboards for Dolgellau are from an old club layout, cleaned up and folding legs fitted. As the layout developed new boards were built from the usual 2 x 1 frames and plywood tops.

The track work is mostly SMP, although some is Peco. All points are Peco and are operated by either Seep or Peco point motors. All point motors are wired for conventional operation, not DCC. Switches are on 3 separate control panels.

About 3 - 4 years ago it was decided to go digital. After a lot consideration and visiting layouts that used DCC, we opted for the Lenz 100 system. It has been found to be reliable in operation and easy to use. There are 3 hand controllers, 2 x Set 100 types and a Set 90.

Droppers from the tracks are connected to the main bus (a wire running around the underside of the baseboards). This in turn is connected to the power unit.

Wiring of the layout has been improved by Mike Scanlon. He helped to develop and wire up the control panels and the points in the storage sidings, operation of a push button switch sets the route from a given siding and out onto the main line. There are 7 sidings with switches to each of the points (14 in total) 7 points each end.

Buildings and Scenery

All the buildings have been scratch built using materials from the Wills/Ratio range. The only exceptions are the small station signal box and the footbridge. The footbridge was made up from two Dapol kits modified according and the small station signal box was a Ratio kit similarly modified. Most of the buildings have been made by George Revell. They have either been painted or colour crayons used and then sealed with a matt varnish to prevent smudging of the colours. The stonework on the bridge over the river has been done this way, as have the Station buildings and the Goods Shed. The main signal box was built using drawings from the Railway Modeller December 1979. This depicted Maiden Newton signal box which was identical to that at Dolgellau.

All other structures have been taken from photographs, and drawings prepared as accurately as possible, as photographs were our only source. Books that have been referred to are "Coastlines of the Cambrian Railways", Vol 2, by C.C.Green also "Llangollen Railway" by Bill Rear and "Rails to Bala" published by Charter Publications.

The back scene is a series of photographic sheets cut to size and joined together. The "3D" effect of photographed structures has been achieved by Jean Tighe, one of our team, who also made a lot of the trees on the layout ably assisted by George Revell. These have been made utilising various time honoured methods. Some of the techniques featured in "Model Trees" by Shirley Rowe and published by Peco Publications have also been used.

Embankments have been created by polystyrene blocks cut to shape, then covered with paper coated with a dilute mix of PVA adhesive. Once this has dried out it is then given a further application of dilute PVA and covered liberally with a variety of scatter materials and painted to different shades of green.

The river was formed by painting the bed a muddy brown colour, once this dried, several coats of clear varnish was then applied. Gravel, to form banks in mid river, was then layered on and PVA adhesive dribbled on to it and allowed to dry. At the point where the line passes over the river, we have endeavoured to create the effect of the river disappearing out of view round a bend. This was achieved by careful positioning of trees and embankments and creates a very realistic effect – exactly what we wanted.

The turntable is a modified Peco "N" gauge and does not operate. This was selected as it is very close in scale terms to the size of the original turntable which was 42'.

Locomotives & Rolling Stock

As the layout is set in the very early 1960's consequently the locomotives used are limited to ex GWR Manors, Moguls, Collett Goods and Panniers, ex LMS Ivatt Class 2's and BR Standard Class 4 4-6-0's and Class 3 2-6-2 tanks.

All locomotives are DCC and, at present, we are progressively sound chipping locomotives hope to have all completed by April 2011. Being able to double head or bank loco's is very realistic, but having the advantage of sound effects from loco's – whistles, safety valves, wheel flange squeal etc. not to mention the "chuff" – really does make a big difference.

Some loco's are also weathered, being done by myself, but there are two – a Manor and an ex GWR Mogul that have been weathered by Steve of Grimy Times in Warrington. These two loco's are excellent in their finish, the Manor being lightly weathered and the mogul a bit heavier and both being provided with real coal in their tenders.

Main line coaching stock is a mixture of Bachmann Mk1's, Hornby ex LMS Staniers and Hawksworths. There are also a couple Mainline maroon Collets. Local trains consisted of ex GWR Auto Trailers (Hornby) or, latterly ex LMS non-corridor stock (Airfix). Until recently, our biggest void for coaches was the Hawksworths, but with the releases from Hornby, they have more than adequately filled this gap. We are, however, still short of Stanier Non Corridor coaches unless we resort to kit built versions. Goods and freight stock is mainly Bachmann with some from Hornby and Dapol.

Operation

We were fortunate to obtain a train working list which has enabled us to replicate fairly accurate train operations. Among these is the shuttle service which ran between Barmouth and Dolgellau with some, during school terms, to Drws-y-Nant (pre-war, these trains ran as far as Harlech). Most through trains only consisted of four corridor coaches, although during the summer months, holiday specials to Butlins Camp at Pwelli could have as many as 12 on. On summer Saturdays it would not be unusual to find through coaches from the Midlands (Birmingham and Wolverhampton).

To operate the layout requires a minimum of four operators – two to control the trains and two to operate points. There are signals and they do work but as yet they are not connected in any way. They are Ratio lower quadrant signals and, in some cases, have been modified to suite specific locations, for example just beyond the road bridge at Dolgellau, is a starting signal but below it is a "shunt ahead" signal. This has been replicated by fitting appropriate signal arms from Model Signal Engineering (MSE). A bracket signal on the approach to Penmaenpool has been modified in a similar manner. We do intend to have the signals operating.

We work a system of cards which detail the various train movements. Some of these movements are complicated, to say the least, and it takes about and a half to go through all the train movements – providing there's no hitches or mistakes! Penmaenpool

The next station along the line, heading towards Barmouth, was Penmaenpool. Penmaenpool station is currently being built and progress is well advanced with platforms, goods dock, signal box, stations buildings and the George Hotel (built by George). This hotel is still there today and uses the original station building as an annex to the main hotel and the signal box is also still in existence. The platforms were built by Don as well as the platform shelters, the goods dock was made by Bill. The fact that the main buildings are still there was a tremendous help.

Additionally, there was a small 2 road engine shed, about a ¼ of a mile from the station, which was a sub shed to Croes Newydd. The engine shed was made by Bob Rowlands. Also included is the shed master's house which was located just behind the shed. This house is still there today and occupied.

Exhibitions

We have exhibited the layout at our own Club Exhibition (where we were delighted to win the Best in Show) and also at Leigh MR Club in 2009. If you would like to see (and hear) Dolgellau we are scheduled to appear at York at Easter 2011 and then again at our own Club Exhibition the following week-end at Archbishop Blanche School in Liverpool.

Acknowledgements

We acknowledge the valuable assistance rendered by Bob Crump of Dolgellau, for photographs and train working diagrams and a variety of information relating the station and the line.

The late Gwylym Hughes for photographs and relevant information relating to the cinema (which no longer exists).

Dolgellau Council Archive Department for various photographs.

The late Alan Eames for providing coach workings and daily train procedures.

Finally to all the team – Don and Jean Tighe, Mike Scanlon and Ian Coules for their untiring work in developing Dolgellau to what it is today.